History of Rajputs in India
A Rajput (from Sanskrit raja-putra, "son of a king") is a member of one of the patrilineal clans of western, central, northern India and some parts of Pakistan. They claim to be descendants of ruling Hindu warrior classes of North India. Rajputs rose to prominence during the 6th to 12th centuries. Until the 20th century, Rajputs ruled in the "overwhelming majority" of the princely states of Rajasthan and Surashtra, where the largest number of princely states were found.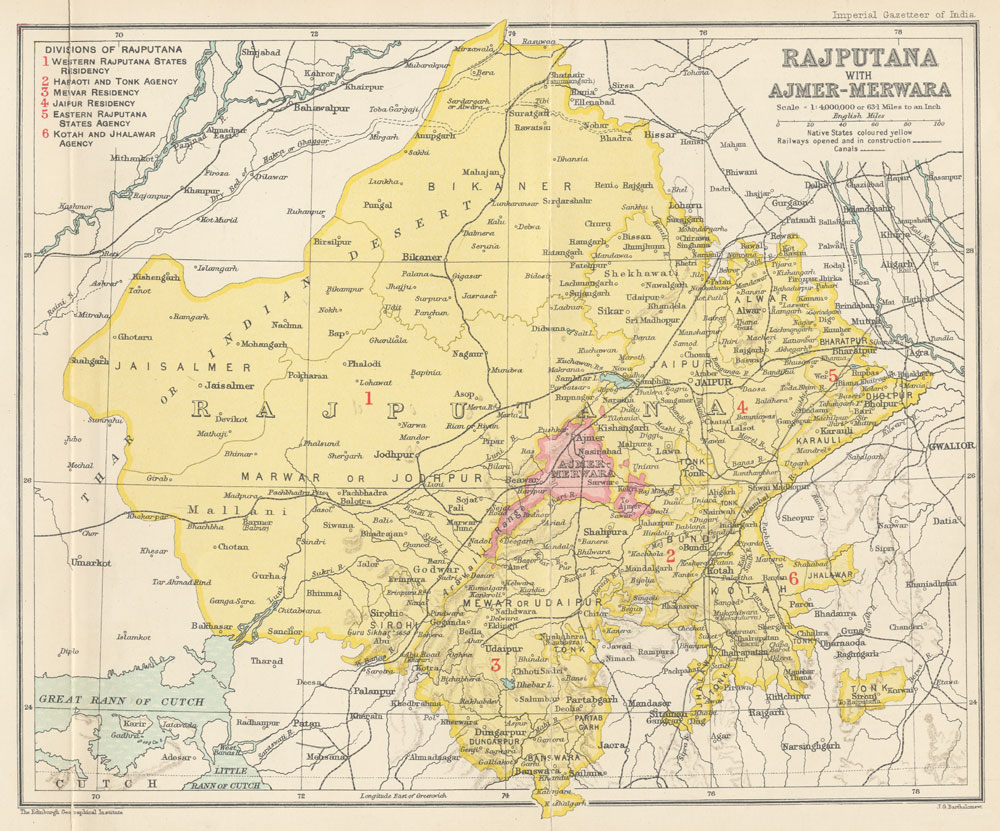 Map of Rajputana The Rajput population and the former Rajput states are found spread through much of the subcontinent, particularly in north, west and central India. Populations are found in Rajasthan, Saurashtra, Uttar Pradesh, Himachal Pradesh, Haryana, Jammu, Punjab, Uttarakhand, Madhya Pradesh and Bihar.
There are several major subdivisions of Rajputs, known as vansh or vamsha, the step below the super-division jati. These vansh delineate claimed descent from various sources, and the Rajput are generally considered to be divided into three primary vansh: Suryavanshi denotes descent from the solar deity Surya, Chandravanshi from the lunar deity Chandra, and Agnivanshi from the fire deity Agni. Lesser-noted vansh include Udayvanshi, Rajvanshi, and Rishivanshi. The histories of the various vanshs were later recorded in documents known as vanshaavaliis.
Beneath the vansh division are smaller and smaller subdivisions: kul, shakh ("branch"), khamp or khanp ("twig"), and nak ("twig tip"). Marriages within a kul are generally disallowed (with some flexibility for kul-mates of different gotra lineages). The kul serves as primary identity for many of the Rajput clans, and each kul is protected by a family goddess, the kuldevi.
The main lineages
The Rajputs are divided into clans, each clan belonging to one of three basic lineages (vanshas or vamshas):
The Suryavanshi lineage, claiming descent from Surya, the Hindu Sun god. In English it is known as the Solar Dynasty;
The Chandravanshi lineage, or Lunar dynasty lineage claims descent from Chandra (the moon or Budh). The Chandravanshi lineage is known as the Lunar Dynasty in English;

The Yaduvanshi lineage are a major sub-branch of the Chandravanshi lineage. Lord Krishna was born a Yaduvanshi.
The Puruvanshi lineage are a major sub-branch of the Chandravanshi Rajputs. The Kauravs and Pandavs of the epic Mahabharata were Puruvanshis.

The Agnivanshi lineage claims descent from Agni, the Hindu god of fire. Four main Rajput clans are considered to be Agnivanshi. They are Chauhans, Paramara, Solanki and Pratiharas.
Each of these Vanshas or lineages is divided into several clans (kula), all of whom claim direct patrilineage from a remote but common male ancestor who supposedly belonged to that Vansha. Some of these 36 main clans are further subdivided into shakhas or "branches", again based on the same principle of patrilineage.
Each shakha or basic sub-clan has its individual genealogical creed, describing the essential peculiarities, religious tenets, and original domicile of the clan. This creed is a touchstone of traditional affinities and provides all information governing the laws of intermarriage.
Major Suryavanshi clans
Bais (Byce)
Chattar
The most respected and highly distinguished amongst all the Rajput clans as a rajput can not be a Kshatriya if not a Chattari. The mother caste of Suryavanshi Rajputs which originated from Rajputana in Rajasthan. However, there are many Gotras and sub castes in other major dynasties which emerged from the Chattari lineage. Chattaris belong to the military and ruling order of the traditional Vedic-Hindu social system as outlined by the Vedas.
Gaur Rajputs
Minhas
Minhas Rajputs are Suryavanshis and claim descent from Rama a legendary king of Ayodhya. In Rajputana, their closest cousins are the Kachwaha and Bargujar Rajputs of Jaipur. They trace their ancestry to the Ikshvaku dynasty of Northern India (The same clan in which Lord Rama was born. He, therefore is the 'kuldevta'(family deity) of the Hindu Minhas Rajputs). Specifically, they claim descent from Kusha younger of the twin sons of Rama, hero of the Ramayana, to whom patrilineal descent from Surya is in turn ascribed.
Pakhral
Pakhral Rajput is a sub clan of Minhas Rajput. Pakhral Rajputs are the most dynamic rulers in the history of sub-continent and they deserve for holding the dinstinction of being the hero of sub-continent. The founders of the city and state of Jammu and its rulers from ancient times to 1948 C.E. Ansistors of Pakhral Rajputs are mostly Hindus, in early 18th and 19th century mostly Pakhral Rajputs embraced Islam and moved from Jaipur and Rajastan(India) to Kashmir and Pakistan. Punjab specially the area of Potohar and Azad jammu Kashmir is the origin of Pakhral Rajputs. Mirpur Azad jamu Kashmir and the Rawalpindi District mostly named as the area of potohar is very famous as the area of Pakhral Rajputs. Raja is mostly used as a title in Pakhral Rajputs which is derived from the word Rajput.
Naru
The Narus of Hoshiarpur District claim that their ancestor was a Suryavanshi Rajput of Muttra, named Nipal Chand, and descended from Raja Ram Chand. He was converted in the time of Mahmud of Ghazni and took the name of Naru Shah. Naru Shah settled at Mau in Jalandhar, Whence his son, Ratan Pal, founded Phillaur hence founded the four Naru parganas of Haryana, Bajwara, Sham Chaurasi and Ghorewaha in Hoshiarpur and that of Bahram in Jullunder. The chief men of these parganas are still called Rai or Rana. Some kept Brahmans of the Baadeo got.
Major Chandravanshi clans
Chudasama
The Chudasama and their collaterals the Raizada are a branch of the Lunar or Chandravanshi line of Rajputs, who trace their origin to Lord Krishna.
Bhangalia
The Bhangalia clan are the erstwhile rulers of Chota and Burra Bhangal in Kangra District of Himachal Pradesh.
Pahore
The Pahore (also known as Pahur or Pahor) are a clan of Chandravanshi Rajputs. They use Khan or Jam or Malik as title.
Soam OR Som
Major Agnivanshi clans
Bhaal
The bhaal gotra of rajputs belong to Garhmukteshwar Bulandshar Siyana Aligarh and many parts of Uttar Pradesh and Rajasthan.There are 62 villages in Garhmukteshwar and Siyana tehseel.In these villages various gotras of Rajput/Chauhans are lived and married in different gotras of rajput clans.Mainly all rajput gotra of this area called Chauhan and this palace called Chauhanpuri.The gotras are mostly Vats Gahlot Bhaal Kuchawah Kemlaksha Bhati Parihar Tomar and many more.
Chauhan
Mori
The Mori clan is one of the 36 royal clans of Rajputs & falls in 24 eka clans which are not divided further. Mori Rajputs are sub clan of Parmara Rajputs of Agnivansh. They ruled Chittor & Malwa till early part of eighth century & built the biggest fort in India at Chittor in the reign of Chitrangad Mori (Ref: Archaeological survey of India)). Last king of Mori Dynasty of Chittor was Maan Singh Mori who fought against Arab invasion. Qasim attacked Chittor via Mathura. Bappa, of guhilote (Sisodia) dynasty, was a commander in Mori army. After defeating Bin Qasim, Bappa Rawal obtained Chittor in dowry from Maan Singh Mori in 734 A.D. Then onwards Chittor is ruled by Sisodia Rajputs.Later Mori & Parmar Rajputs continued to rule Malwa until Muslim incursions. Of late they remained as smaller royal states & jagirdars in the central India in present state of Madhya Pradesh, presently settled in Dhar, Ujjain, Indore, bhopal, Narsinghpur & Raisen.
Naga
The Naga were one of the ancient most kshatriya tribes of India who evolved from Suryawansha (the Solar Clan of ancient Kshtriyas of India) and ruled large parts of the country at different times. They spread throughout India during the period of the epic Mahabharata. Anthropologist Gelek Lonbsang believes they have distant ancestry with East Asians based on their similar physical features.[1] The demi-god tribe called Suparnas (in which Garuda belonged) were arch-rivals of the Nagas. However, the Nagas near Kashmir seems to be the original abode of all of them. Places like Anantnag attests this theory. The worshippers of Naga were supposedly known as Naga or Nagil. Some Nair and Bunt clans claims to be of Nagvanshi origin. The trace of nagvanshi can be find out in Chotanagpur i.e. Jharkhand (Rai) community and (Shahdeo) community are also nagvanshi Rajput.
List of ruling Rajput dynasties of the Indian subcontinent:
Janjua Rajput Hindushahi dynasty (964-1026 AD): This dynasty ruled parts of Afghanistan and Punjab. Jayapala was its first Rajput king who succeeded the last Brahmin king Bhimadeva. Its last king Bhimpala died in 1024.
Chauhan dynasty of Ajmer & Delhi : The Chauhans, ruled between 956 and 1192 AD, earlier over the eastern parts of the present day's Rajasthan with their capital at Ajmer and later extended their territory up to parts of modern-day Punjab, Haryana, Uttar Pradesh and Delhi. This Rajput dynasty was founded by Simharaj, who is famously known as the founder of the city of Ajmer. Prithviraj Chauhan was considered greatest of all Chauhan rulers. During his reign, the kingdom extended over Delhi, Ajmer, modern-day Rohilkhand, Kalinjar, Hansi, Kalpi, Mahoba etc. He conquered Bhatinda (in Punjab) from Ghaznavide ruler of Punjab and defeated Muhammad of Ghor in the first battle of Tarain. However, he was defeated in the second battle of Tarain, 1192.
Solanki dynasty: The Solankis established their rule over present day's Indian state of Gujarat between 945 and 1297 AD. Their kingdom came into prominence during the reign of Mulraj. They ruled with their capital situated at Anhilwara.
Paramara dynasty of Malwa
Parihara dynasty of Kannauj: Conquered Kannauj in 816 AD, which remained its capital for about a century, declined in 10th century.
Bargujar dynasty of Rajorgarh: Conquered Dhudhar in 9000 BC, Rajor remained its capital till declined in 10th century.
Chandelas of Khajuraho: This Rajput dynasty was founded by Jayasakthi. They ruled the areas across Bundelkhand with Khajuraho as their capital. The dynasty came to an end after Alauddin Khalji conquered Bundelkhand.
Gahadvalas of Kannauj: This Rajput dynasty ruled the kingdom of Kannauj for around a hundred years, beginning in the late 11th century.
Chand dynasty of Kumaon: Ruled much of Uttarakhand.
Katoch dynasty of Kangra: Ruled much of Himachal Pradesh and parts of Punjab.
Bundelas of Bundelkhand: Ruled Bundelkhand from 16th century onwards.
Tomaras of Delhi & Gwalior
Pathanias of Nurpur: Ruled from 11the century to 1849 over parts of northern Punjab and Himachal Pradesh.
Shekhawats of Shekhawati
Dogra dynasty of Jammu and Kashmir