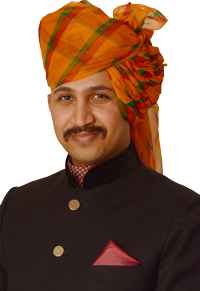 Hello and welcome once again to this new website for Rajput Provinces of India. Myself Abhinay Rathore, son of Late Th. Ashwapat Singh Rathore of Thikana Bajekan. I was born and brought up in Dhingsara and Bajekan. After completing my Bachelor of Engineering degree in Computer Science from Gwalior, I came to U.S.A for pursuing my Masters. I completed my Masters in Computer Science from the University of Missouri and have been working in U.S.A. Presently I am working as a Staff Software Engineer (Front-End) with LinkedIn.
Being from the field of web development, I felt it was my moral responsibility to create a website to showcase the royal culture and heritage we belong to. I was inspired by Mr. Henry Soszynski's work and thought of taking it a few steps further with better user interaction, social integration by designing a site with all modern features.
Follow us on Facebook for regular updates!
Sources
Contributors:
These are few of the diligent contributors to the site:
Deepak Agarwal
Rahul Singh
Randeep Singh Bika
Dushyantsinh Dilipsinh Jadeja
Ajay Singh Sikarwar
Harhvardhan Singh Rathore