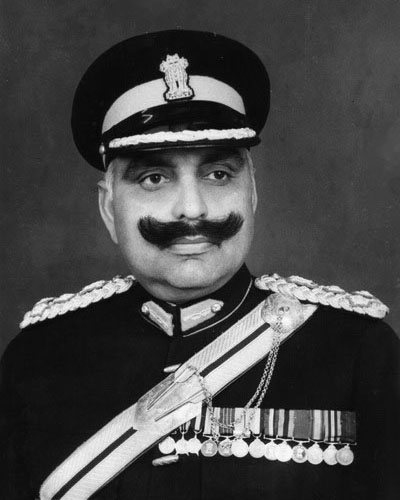 Born on 24th October, 1922. Educated at Bhupal Nobles School, Udaipur. Joined army in 1941. Went to Indian Military Academy, Dehradun in Feb, 1942. Commissioned in Oct 1942. Proceeded to Middle East in 1944, stationed in Iran (was then Persia), Iraq, Palestine (now Israel), Syria, Egypt, Lebanon. Went to England in 1946 for higher military training. Returned to India in 1946, after World War II was over.
In 1948 was selected as an instructor at Indian Military Academy. After serving for two years there, was appointed A.D.C General-Officer- Commanding 19 Infantry Division in Srinagar, Kashmir.
After completing there, joined 18th Cavalry in 1951. Was selected as an instructor at Armoured Corps Training School, Ahmednagar (Maharashtra). Served in that capacity till 1957.
In 1959 was posted to 62 Infantry Brigade Head Quarters. Took part in operation against China at SELA Pass in 1962. Took over command of 18th Cavalry in 1962. Commanded the regiment during 1965 operations against Pakistan, in Sialkot Sector. Was awarded Mention-in-Despatch for gallantry during these operations.
In 1967, was promoted to COLONEL and was appointed Deputy Commander 1 Armoured Brigade at Patiala. Promoted in 1969 as BRIGADIER and posted to 5 Mountain Brigade in Arunachal Pradesh. Commanded the Brigade till 1973. Was awarded A.V.S.M (Ati Vishisht Seva Medal) for outstanding service while in command of the Brigade during Bangladesh Operation.
Commanded Pathankot Sub. Area till 1974. Retired in 1974. In 1975, was appointed Secretary, Rajasthan Soldier's board. Remained in that appointment till 1980.
ATI VISHISHT SEVA MEDAL
Brigadier HARI SINGH (IC 5689), ARMOURED CORPS
Brigadier Hari Singh was commissioned in 1944. He has held various staff and command appointments. He has been an instructor at the Indian Military Academy and Armored Corps Centre and School. He has commanded a mountain brigade and is at present commanding a sub area. While in command of a mountain brigade deployed in Arunachal Pradesh for a period of about 4 years, his formation held posts in far flung areas in the remotest parts of the state. He reorganized the defenses of the formation which required him to visit all the posts and detachments a number of times going on foot for weeks facing hardships and vagaries of inhospitable terrain and climate. By his relentless and vigorous drive, he overcame all the difficulties and succeeded in making strong and viable defenses in his sector. During his tenure in the formation, he also came to be closely associated with the tribals and their affairs. By virtue of his extremely matured mind understanding and humane approach, he endeared himself, the service and the Government to the locals and won them over. He kept the welfare and development of the tribals foremost in conformity with national aims and policies.
Brigadier Hari Singh has thus rendered distinguished service of the exceptional order.
---