Present Head
HH Maharaja Sahib Shri DIGVIRENDRASINHJI INDRASINHJI
, 22
nd
Raja of Bansda (19xx/-) (Digvi Niwas, Gujarat, India), born , married to HH Maharani Sahib Usha Kumari Rathore, elder daughter of Rajkumar Dr. Raghubirsinhji Rathore of
Sitamau
.
History
Bansda State (Wansda) (1904):
The State is bounded on the west by Surat District; on the north by the State of Baroda; on the east by the Dang States; and on the south by the State of Dharampur. With exception of few villages bordering on Surat, almost all whole country is covered with forest. The annual rainfall averages about 80 inches.
The Family of the chief are Hindus of Rajput extraction, claiming descent from the Solanki race. The ruins of the fortified enclosure near Bansda, and of several temples and works of irrigation, point to a former period of prosperity. The family follows the rule primogeniture and has received a sanad authorizing adoption. The Marathas seem to have been the first to bring the chiefs entirely into subjection and to impose a tribute upon them. The right of levying this tribute was transferred by the Peshwa to the British under the Treaty of Bassein (1802).
The Raja has the power to try his own subjects for capital offences. The number of police is 131. 34 mounted men and 33 Arabs are there to perform miscellaneous duties about the court. The State contains one jail. There are 14 boys' schools and 1 girls' school in the State, maintained at a cost of Rs. 5,271 with an average daily attendance in 1903-1904 of 416. The boys of the wild tribes are allowed free education in the State schools. Bansda contains a hospital and a travelling dispensary, which together treated 28,000 persons in 1903-1904. The expenditure of the Bansda Municipality is wholly born e by the State.
Tribute: Rs. 7,351 and a Chauth of Rs. 1500 to the Government of India.
Major Produce of the State: Rice, Nagli, Kodra, Pulse, Cotton and Wheat
Manufacture: Cotton tape, Mats, fans, Baskets, Coarse woollen carpets and cloths.
The Maharawal maintains a Military force of: 24 Cavalry, 111 Infantry and 1 gun.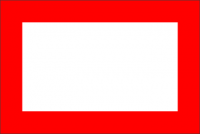 Original COA of the State of Bansda:
Arms: Or, three dexter hands appaumé Sable, ensigned with flames of the field within a bordure gules.
Crest: On a helmet to the dexter, lambrequined Or and Sable a Sara (Ibis leucocephalus - Ciconiidæ) proper.
Supporters: Two bears, ensigned on the shoulder with flames proper.
Motto: Wansheshwapi Chandra
Bansda State Original Flag (1877): A state flag white with red border existed in 1877.
The banner of the Maharaja Maharawal: It remained officially in use until 1948.
Genealogy
In 1893, the Maharawal was allowed to maintain a military force of 24 cavalry, 111 infantry, and 1 gun. Rulers were...
Raja Sahib (name unknown), 1st Raja of Bansda
Raja Sahib MULDEVJI, 2nd Raja of Bansda
Raja Sahib KADHALDEVJI, 3rd Raja of Bansda
Raja Sahib BALDEVJI, 4th Raja of Bansda
Raja Sahib KARANDEVJI, 5th Raja of Bansda
Raja Sahib UDAISINHJI I, 6th Raja of Bansda
Raja Sahib MALKARANJI, 7th Raja of Bansda
Raja Sahib UDAISINHJI II, 8th Raja of Bansda; married and had issue.

Raja Sahib Virsinhji I Udaisinhji

(qv)

Raja Sahib VIRSINHJI I UDAISINHJI, 9th Raja of Bansda -/1716; married and had issue. He died .

Raja Sahib Raybhanji Virsinhji

(qv)

Raja Sahib RAYBHANJI VIRSINHJI, 10th Raja of Bansda 1716/1739; married and had issue. He died .

Raja Sahib Ghulabsinhji Raybhanji

(qv)

Kumar Shri Jorawarsinhji Raybhanji

, he was granted the estate of Bisanpur after his father's death, but it was taken by the Maharaja of Baroda in 1763, married and had issue.

Kumar Shri Virsinhji Jorawarsinhji

, he disputed the succession of Raja Sahib Udaisinhji III Ghulabsinhji, but it was confirmed by the Peshwa and he was granted five villages in compensation; he was adopted by Raja Sahib Kiratsinhji Udaisinhji, and succeeded as Raja Sahib Virsinhji II Kiratsinhji, 14th Raja of Bansda (qv)

Kumar Shri Naharsinhji Jorawarsinhji

, adopted by his brother, Raja Sahib Virsinhji Kiratsinhji and succeeded as Raja Sahib Naharsinhji Virsinhji, 15th Raja of Bansda (qv)

Raja Sahib GHULABSINHJI RAYBHANJI, 11th Raja of Bansda 1739/1753; married and had adoptive issue. He died .

(A) Raja Sahib Udaisinhji III Ghulabsinhji (qv)

Raja Sahib UDAISINHJI III GHULABSINHJI, 12th Raja of Bansda 1753/1770; a distant cousin of his predecessor, he succeeded by adoption; married and had. He died about 1770.

Raja Sahib Kiratsinhji Udaisinhji

(qv)

Raja Sahib KIRATSINHJI UDAISINHJI, 13th Raja of Bansda 1770/1780; married and had adoptive issue. He died .

(A) Raja Sahib Virsinhji II Kiratsinhji (qv)

Raja Sahib VIRSINHJI II KIRATSINHJI, 14th Raja of Bansda 1780/1789; born as Kumar Shri Virsinhji Jorawarsinhji (see above), succeeded by adoption; married and had issue. He died .

(A) Raja Sahib Naharsinhji Virsinhji (qv)

Raja Sahib NAHARSINHJI VIRSINHJI, 15th Raja of Bansda 1789/1793, born as Kumar Shri Naharsinhji Jorawarsinhji (see above), succeeded by adoption; married and had issue. He died .

Raja Sahib Raisinhji Naharsinhji

(qv)

Raja Sahib RAISINHJI NAHARSINHJI, 16th Raja of Bansda 1793/1815, married and had adoptive issue. He died .

(A) Raja Sahib Udaisinhji IV Raisinhji (qv)

Raja Sahib UDAISINHJI IV RAISINHJI, 17th Raja of Bansda 1815/1828, a distant cousin of his predecessor; married and had adoptive issue. He died .

(A) Raja Sahib Hamirsinhji Udaisinhji (qv)

Raja Sahib HAMIRSINHJI UDAISINHJI, 18th Raja of Bansda 1828/1862, born in or about April 1826, married and had adoptive issue. He died .

(A) Raja Sahib Ghulabsinhji II Hamirsinhji (qv)

Raja Sahib GHULABSINHJI II HAMIRSINHJI, 19th Raja of Bansda 1862/1876, born (1838), cousin of his predecessor; married and had adoptive issue. He died .

(A) HH Maharaja Sahib Shri Pratapsinhji Ghulabsinhji (qv)

HH Maharaja Sahib Shri PRATAPSINHJI GHULABSINHJI, 20th Raja of Bansda 1876/1911, born or 6th December 1863, succeeded 6th March 1876, educated at Rajkumar College, Rajkot; married and had issue. He died .

HH Maharaja Sahib Shri Indrasinhji Pratapsinghji

(qv)

Thakur Pravinsinghji Pratapsinghji

, married and had issue.

Thakur Narendrasinghji Pravinsinghji

Thakur Ghanshyhamsinghji Pravinsinghji

Thakur Vikramsinghji Pravinsinghji

Thakur Bhupendrasinghji Pravinsinghji

, married and has issue.

Thakur Shree Ajaypalsinghji Bhupendrasinghji

, Assistant Commissioner, Central Excise and Customs, Baroda, married Thakurani Krishanakunverbasaheb of Sapar in Morvi, and has issue, one son.

Kanwar Harshwardhan Singh

, born , working for Jetairways Baroda, married Kumari Dhaneshwari Devi, daughter of Kumar Shri Shivrajsinhji Surendrasinhji of Sayla, and has issue, one son.

Kumar Chandraaditya Sinhji Harswardhan Sinhji Solanki

Thakur Pradumansinghji Pravinsinghji

Thakur Nrupendrasinhji Pravinsinghji

Thakur Natwarsinhji Pratapsinhji

, born , died .

Thakur Kishorsinhji Pratapsinghji

HH Maharaja Sahib Shri INDRASINHJI PRATAPSINHJI, 21st Raja of Bansda 1911/-, K.C.I.E., born and succeeded 21st September 1911, educated at Rajkumar College, Rajkot, married and had issue.

Kunwari Shri Sushil Kunwarba [HH Maharani Sushil Devi

of Ajaigarh], born , married HH Sawai Maharaja Devendra Vijaya Singh of Ajaigarh, and had issue.

Maharajkumar Shri Digvirsinhji Indrasinhji

, born .

Maharajkumar Shri Harshadkumarsinhji Indrasinhji

, born , died .

HH Maharaja Sahib Shri Digvirendrasinhji Indrasinhji

(qv)

Maharani Sudheer Kunverba

, married HH Maharaja Shri Mahendrasinhji Lakhdhirji of Morvi.

HH Maharaja Sahib Shri DIGVIRENDRASINHJI INDRASINHJI (see above)